Accessibility Quick Links
You could save $578 or more
Switch both your home and auto insurance to the CIBC Home and Auto Insurance Program†.
Loyalty Savings*
If you've been with your auto provider for 5 years or longer, you could save up to 15% when you switch to CIBC Insurance in select provinces.
The CIBC Home and Auto Insurance program is underwritten and distributed by Certas Direct Insurance Company in Ontario and by The Personal Insurance Company in all other provinces and territories except Quebec. In Quebec, the Program is underwritten by The Personal General Insurance Inc. and distributed by CIBC Insurance Agency Inc.
Auto insurance to protect your vehicle
If you are involved in an accident or any other type of incident that causes damage or injury, CIBC Auto Insurance can protect you from the losses you may incur, whether or not you are liable.
There are coverage options available beyond those required by provincial laws to give you greater flexibility with your protection. Competitively priced auto insurance solutions for a variety of vehicle types, including:
Car
Minivan
Pickup truck
SUV
Snowmobiles
RVs
Motorcycles
The protection you need, plus the customization you want

Canadian provincial laws require minimum auto insurance coverage, but most automobile owners add more coverage to meet their needs. Your auto insurance coverage may vary depending on the province you live in.
Select your home province:
Get a quote with an insurance agent
Call 1-855-964-2082 and have the following information handy: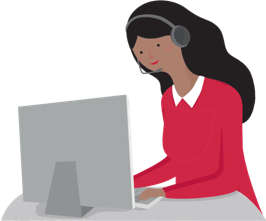 Your driving history and that of other drivers you wish to insure
When you got your driver's license
Which type of license you have, e.g. motor vehicle or motorcycle license
Details about any accidents or traffic violations
When you became a principle driver and when you were insured
Your vehicle(s)
The year, make, and model of the vehicle(s) to be insured
Whether the vehicle(s) is purchased or leased
When you would like the insurance to start
Any optional coverage that you would like to add
Always available and ready to help
If you were involved in a car accident, use the online claim tool to:
File a claim following a major or minor collision, hit-and-run, fire, theft, vandalism and more
Check your coverage, liability and applicable deductible depending on the event that occurred
Book an appointment with one of the claims network's body shops
Register or sign on now to file your claim online. For more information, review the Claims page, or call us to make an auto insurance claim at 1-855-964-2082.
Claims emergency assistance is available 24 hours a day, 7 days a week. Get help with the process from knowledgeable claims advisors.
Call toll free at
1-855-964-2082
Manage your auto insurance account online